"ENTER to Learn; Depart to Serve."

Mary McLeod Bethune
On February 4, 2021, partners representing seven European countries met online to kick-off the Erasmus+ ENTER project.
While not an official partner on this project, We Are Entrepreneurs was invited by Step by Step Iceland to contribute with the expertise in mentoring, to provide feedback around the implementation of the new mentoring methodology, and to help with the cultural adaptation of the methodology.
The mentoring path
The relevant mentoring experience for this project come from Diana's proven track record of mentoring and coaching ex-pats in Denmark on the way to creating their own jobs, as well as from her more recent experience coordinating the mentoring program at PWN Copenhagen. Since January 2021, Diana serves as VP Mentoring at Professional Women's Network Copenhagen.
About ENTER
Many marginalized young adults (NEETs, migrants, disabled, low skilled, with a criminal background, etc.) have not had the same opportunities as their peers for exposure to career preparation options like mentoring. Usually, they play at best a passive role in their own career-planning process. This may reflect low expectations that either they or others have, learned dependency, or the perceived need for protection and support. Lack of appropriate vocational and social skills increases their social exclusion since they are at high risk of long-lasting unemployment, social exclusion, or deviancy.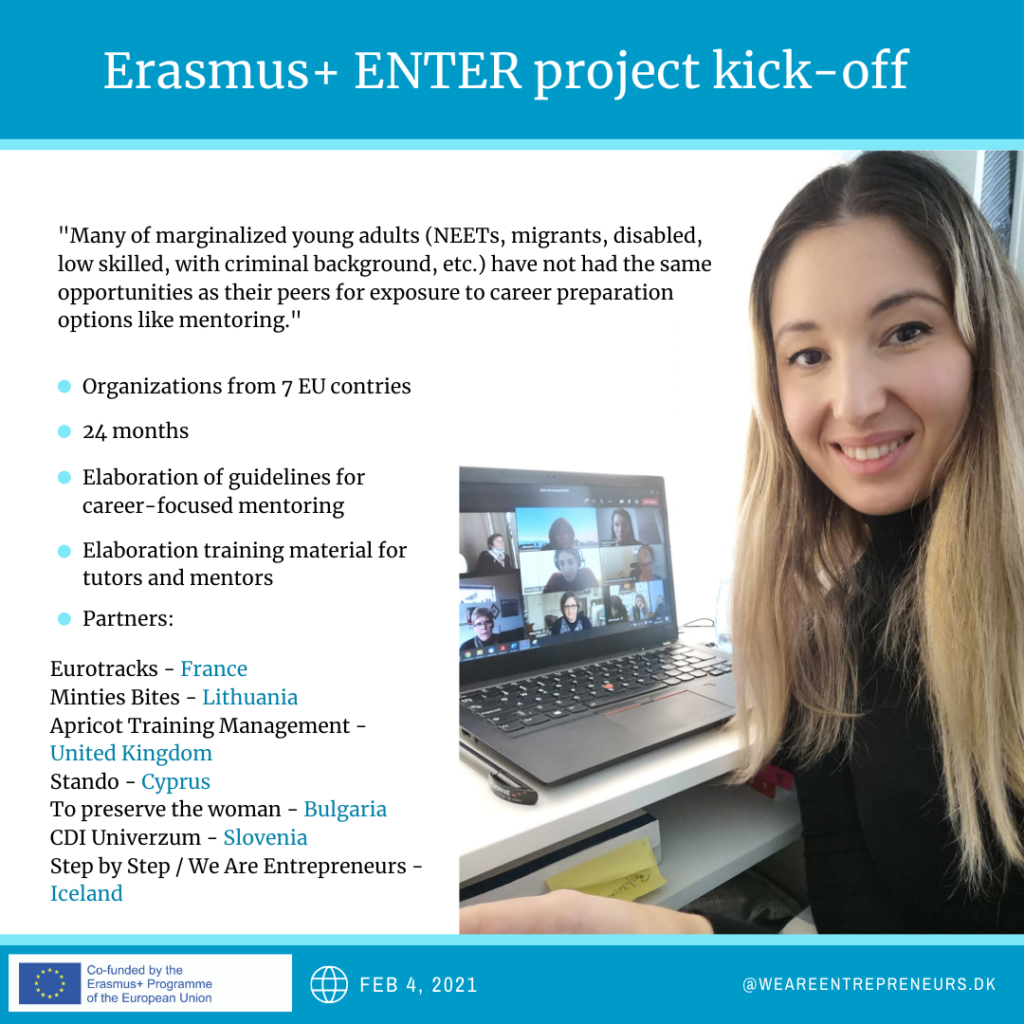 Objectives
The project will…
Tackle mentioned issues by supporting adult educators with an innovative career-focused mentoring methodology for fostering the inclusion and employability of young learners, who are in a disadvantaged situation.
Support adult educators to extend their services with innovative curricula and methodology for career mentoring and promote high-quality educational services in non-formal education institutions and organizations.
Seek to professionalize adult educators and enable them to support individual career development and aspirations of low-skilled, unemployed young learners overcome skills mismatches in the high demanding labour market.
Activities
In the next 24 months, Eurotracks (France), Asociacija MINTIES BITES (Lithuania), Skref fyrir Skref ehf / Step by step (Iceland), Apricot Training Management LTD (United Kingdom), STANDO LTD (Cyprus), Association "To Preserve The Woman" (Bulgaria), and Center za dopisno izobrazevanje Univerzum (Slovenia), will:
Elaborated Guidelines for Career-focused mentoring;
Elaborated training material for Tutors and Mentors;
Provided 5 days short-term joint staff training of trainers. Trained 14 adult educators-tutors;
Trained adult educators-tutors (14 total) will provide training for selected adult educators-mentors from local non-formal education institutions and organizations (42 total) in each partner's country;
Trained mentors (42) will perform the pilot mentoring with 84 final beneficiaries – marginalized young adults (NEETs, migrants, disabled, low skilled, with a criminal background, etc.);
What is next?
In March 2021, the partners in ENTER will meet to experience the Self Awarness diagnostic tool that will be part of the new mentoring methodology.
News from the development of this project will be posted as they occur.